Award winning UK accounting software that is very simple to use. FreeAgent is a bookkeeping and accounting tool designed specifically for freelancers and small businesses, to give real time visibility of how their business is performing. FreeAgent's Dashboard brings everything together in one place, helping you keep your business on the right trajectory.
With FreeAgent you can: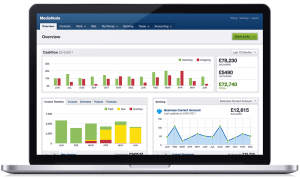 • Send and track professionally designed invoices
• Automatically chase payments
• Automatically syncs with your banks accounts
• Track times and expenses
• View real-time cash flow at a glance
• Monitor profit and loss
• Forecast your Corporation Tax bill ahead of time
• Review automatically generated VAT returns and submit online
Cashflow at a glance
Tracking cashflow is a top priority for any business. FreeAgent's cashflow view gives you a monthly snapshot of the money coming in and going out of your business, so you know if you're making or burning cash.
Invoice Timeline
Stay on top of your billing at all times with the Invoice Timeline. See which invoices have been paid, are due or overdue – so you know what money you're owed and who you need to chase up.
Live Profit and Loss
No need to run a report – find out exactly how much profit you're making this year in an easy-to-read snapshot view.
Tax Timeline
Never miss another tax deadline – see your upcoming dates for Self Assessment, VAT, Corporation Tax and Payroll, and even how much you need to pay. Export the timeline to your own calendar to avoid any nasty surprises.